World Tourism Day : history on wheels!!!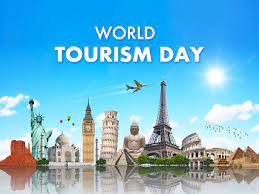 On september 27, the world commemorates World Tourism Day, which aims to promote travel around the globe. One can't help but think of India's heritage and culture when they talk about its vibrancy, diversity, and long history. But what if we told you that while travelling by train, you could discover the history of India's past? train travel may bring back memories for many millennials. train travel has frequently been overshadowed in this era where road trips and flights have dominated travel preferences. A train journey is an adventure in and of itself in India, though.
Train travel is a holistic odyssey that includes talking with other passengers, taking in the beautiful scenery beyond through the window, swinging to the rhythmic motion of the train, and occasionally stopping at stations to stretch out. These trains provide a fascinating travel through the nation's culturally diverse landscape in addition to a trip through nostalgia. Additionally, India's vast rail system is home to a number of UNESCO-recognized heritage trains that guarantee to take you right to the heart of the nation's cultural treasures.
The Nilgiri Mountain Railway stands out as a true engineering and natural beauty marvel when nestled among India's treasure trove of historic trains. This UNESCO-recognized treasure travels through tamil Nadu's picturesque Nilgiri Hills, promising travellers an enchanted journey unlike any other. 
A UNESCO World heritage Site, the darjeeling Himalayan Railway, also known as the "Toy train," is located in darjeeling, West Bengal. It provides a nostalgic journey through the breathtaking Eastern Himalayan landscapes, allowing passengers to experience the history and culture of the area while negotiating steep inclines on vintage locomotives.
మరింత సమాచారం తెలుసుకోండి: