Ram Navami violence: Tensions in several states-P2...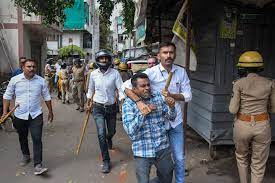 What caused the unrest in West Bengal, Maharashtra, and gujarat on ram Navami, as well as the violence in many other states? On ram Navami, there was a tense mood in some areas of the nation. Two communities came into conflict because of their reciprocal harmony.
How did gujarat catch fire?
Violence flared up in Vadodara, one of the main cities of Gujarat. Several rounds of stone-pelting took place in Fatehpur area. Violence broke out here during the procession of ram Navani. As soon as the yatra reached near the mosque, stone pelting started from the other community. The situation in the area became tense in no time. This area is considered very sensitive.
Situation tense in UP as well
It is not that clashes have taken place only in Maharashtra, gujarat and West Bengal. The situation remained the same in Uttar Pradesh as well. Two groups of students clashed at Bhimrao Ambedkar university in the capital Lucknow. When ABVP students took out a procession, another group clashed. Violent clash took place. The university administration somehow resolved the matter. Even in Mathura, communal violence has survived to some extent. In Muslim-dominated areas, skirmishes have been avoided during ram Navami processions.
మరింత సమాచారం తెలుసుకోండి: