Your soul will tremble after seeing the action scene of ajay Devgan's film Bhola, fans' strong reaction
Bholaa Action Sequence: Your soul will tremble knowing the secret behind the amazing action scene of ajay Devgan's most awaited film Bhola. watch it carefully and don't try it at home at all.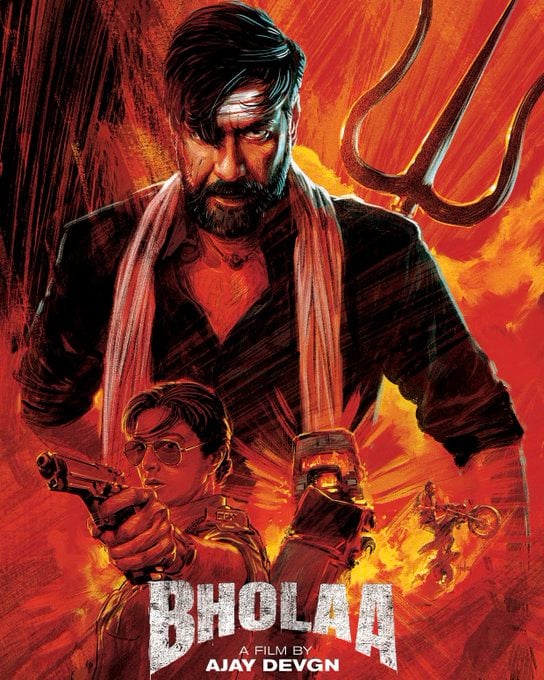 Bholaa bike Truck Chase: After making a splash at the box office with Drishyam-2, ajay Devgan is coming with the film Bhola. This film has become a topic of discussion even before its release. Months of hard work have gone into all the scenes of this film. ajay and his stuntman have risked their lives in making this. Do not try this scene at home or personally anywhere even by mistake. Because they are more dangerous to do than they are to see. ajay is going to enter the world of direction for the first time through the film Bhola. And this is the reason why he wants to become a great stunt master and director like his father. This is the reason that what is the secret behind the amazing action scene of the film Bhola? You will see it clearly in his video. Your soul will tremble after seeing this. In this video, ajay has told how he created and shot this scene. A lot of hard work has gone into doing all these scenes. Seeing this great and dangerous stunt of Ajay, B-town celebs and fans are reacting fiercely on social media.
The film Bhola will be released in theaters on march 30. Fans liked the trailer of the film very much. This film is directed by ajay Devgan. Making his directorial debut, ajay is leaving no stone unturned in his directorial debut. This is the reason why ajay is directing every scene of the film in the best way. His main focus is on action scenes, as his father Veeru Devgan was an action director. It took ajay three whole months to shoot the 6-minute Bholaa bike truck chase sequence in the film. ajay Devgan has dedicated the action sequence of the film Bhola to his father Veeru Devgan.
Ajay Devgan has today shared a BTS video of the film Bhola on his social media handle. Which is creating a sensation on social media as soon as it is posted. Reactions of his fans and B-town celebs are continuously coming on this action sequence of ajay Devgan. First of all, Ajay's friend and bollywood actor abhishek bachchan has written a lovely post on the actor's twitter account. abhishek bachchan (Bhola abhishek bachchan) wrote, 'Wherever he is he must be feeling very proud - ajay Devgan 'All the best'. You can also see how ajay prepared this stunt scene in this video (Watch Dangerous Scenes) but watch it with patience.
His fans are quite excited about bollywood actor ajay Devgn's action movie Bhola (). Ever since ajay shared this action scene video on his social media, his fans have been continuously messaging him. (Ajay Devgn Twitter) Along with this, his friends and many celebrities in B-Town are congratulating him for this great action scene.
మరింత సమాచారం తెలుసుకోండి: