Thalapathy into politics..! First step on 17th..!?

For the past few days, Thalapathy Vijay's name has been prominently heard in tamilnadu politics. There are reports that Vijay, who has been famous for a long time as a star hero who is getting huge remuneration as a superstar in movies, is thinking of entering the political field. Observers say that the recent decisions taken by Vijay also reinforce this point. Film actors entering politics and excelling are more common in the South. It is a known fact that it is more common in tamil Nadu. It is known that tamil Superstar Maruthur Gopalan Ramachandran (MGR) became the third chief minister of tamil Nadu in this sequence and jayalalithaa excelled in politics as the fifth Chief Minister. Thalapathy Vijay's name recently came to the fore in this sequence.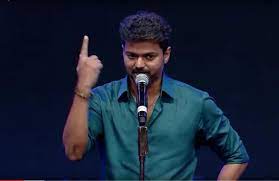 It is known that Thalpathy Vijay has taken another step forward as part of his political debut. Discussions are going on in the political circles of tamil Nadu that they are aiming for the 2026 assembly elections. He has been focusing more on social service for a long time... recently he has started to expand it further. As part of this... Vijay prepared to meet the parents of the students who scored the best marks in the tenth class plus-2 exams on the 17th of this month. Yes... Vijay decided to invite and honor the students who secured the best ranks in the recently released Tenth Plus-2 results along with their parents. As a part of this, the top three candidates were selected for each of the 234 assembly constituencies in the state.
On this occasion, Vijay decided to meet with the students and their parents. He will organize this program at the convention center in ECR on the 17th of this month. In this background, Vijay is already expanding the service programs through his fans across the state... The important programs of late leaders' birthdays are being done through his fans. Similarly, fishermen have also formed women's student sections and are bringing to the fore the debate that the time has come for a political debut.

And let's wait and see whether Vijay will excel in politics like mgr and Jayalalithaa!

మరింత సమాచారం తెలుసుకోండి: