The telugu cinema industry is now buzzing over Pawan Kalyan's Bheemla nayak and the Rana-Pawan kalyan pairing. Even if a minor update about the film is released, it will become viral in the early stages of production. With pawan kalyan playing a major part in the film, all pawan kalyan fans are eagerly anticipating the film's release. Pawan Kalyan's initial look for the Bheemla nayak movie has already been revealed by the production crew.


It's no exaggeration to suggest that this sparked a social media frenzy. Rana First Look is expected to be revealed in the next days. Simultaneously, an intriguing contest is underway to determine which of the gorgeous leading ladies would appear opposite the two heroes in the Bheemla nayak film. menon -Latest Updates, Photos, Videos are a click away, CLICK NOW'>nithya menon has previously confirmed that she would star alongside pawan kalyan in the film. The question of who would star alongside Rana in the Bheemla nayak film has become a hot topic.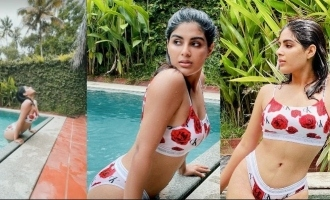 The heroine who would be matched with Rana has yet to be determined by the film team. Samyukta menon, a malayalam stunner, has been cast as the heroine alongside Rana, according to sources. The film crew appears to be on the verge of making an official announcement.

మరింత సమాచారం తెలుసుకోండి: