Why did Nayan invite this Celebrity to her wedding..?

The person who came to Nayantara's wedding could not be accepted by the fans. Thus, her fans are angry at Nayan as to why she invited that guy to the wedding. Nayanthara and Vignesh Shivan, a newlywed couple in tamil cinema, got married on june 9 in Mahabalipuram.
Shah Rukh Khan, Rajinikanth, Vijay Sethupathi, Surya, Karthi, and many other celebrities from kollywood to bollywood wished this lovely couple.
Famous malayalam actor dileep also came to the wedding and greeted the bride and groom. Famous malayalam actor dileep was arrested and jailed in the case of a famous malayalam actress being abducted in a car and sexually abused. It is noteworthy that Dileep, who was released on bail, is now back in trouble with the case.
Cinema fans were angry when they saw dileep coming to Nayantara's wedding. They are questioning why Nayanthara should invite malayalam actor dileep after knowing about his case.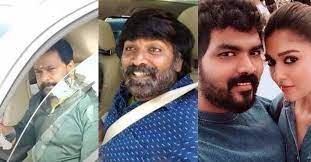 Fans say that even though nayantara is from Kerala, she doesn't need to invite Dileep. The day after the wedding, the couple went to tirupati and got involved in a controversy where Nayanthara wore sandals in the temple.
మరింత సమాచారం తెలుసుకోండి: