Jewelry worth lakhs were stolen from Superstar Rajinikanth's daughter's wedding, suspicion on these people
Rajinikanth Daughter's Jewelry Get Stolen: Wedding jewelry stolen from aishwarya Rajinikanth's chennai house locker. He has lodged an FIR at the police station. aishwarya told that she last saw her jewelry in the year 2019. He has expressed suspicion of stealing jewelry from three people.
Rajinikanth Daughter's Jewelry Get Stolen: Rajinikanth's elder daughter and South superstar Dhanush's first wife aishwarya Rajinikanth's wedding jewelry has been stolen from her house. In this regard, aishwarya has complained to the Teynampet police station in chennai, after which the police have registered an FIR in the matter. aishwarya claims that 60 tolas of gold and diamond jewelry are missing from her chennai home. Teynampet police have registered a case under IPC section 381. aishwarya has also confirmed that she last saw the jewelry at her sister's wedding.
The jewelry was last used at my sister's wedding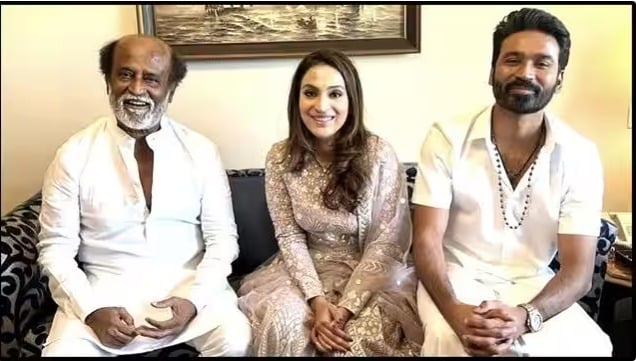 Aishwarya's missing jewelry is worth Rs 3.60 lakh. It is being told that the weight of these ornaments is about 60 tolas. aishwarya told the police that she had used the jewelry at the time of her sister Soundarya's wedding in 2019. In the complaint lodged with the police, aishwarya said that she had kept the jewelry in the locker of the house. He told that apart from him some servants knew about this.
Jewelry was shifted many times at many places
Aishwarya also said in her complaint that in the year 2021, her jewelry was shifted to three places. She has revealed that the jewelry was also taken to her husband Dhanush's house. In september 2021, this jewelry was kept in his apartment located at St. Mary's Road, Chennai. After this, in april 2022, the lockers were taken to their Paws Garden home.
"Aishwarya expressed suspicion of theft on three people
Aishwarya has also informed us that the keys to the lockers are in the house located on St. Mary's Road. On february 10, when aishwarya opened the safe, she found that her wedding jewelry was missing. aishwarya Rajinikanth has accused her maid Ishwari, Lakshmi, and driver Venkat in her complaint. He said that all three of them often used to visit his apartment on St. Mary's Road."
మరింత సమాచారం తెలుసుకోండి: