When shahid kapoor talked about 'Sexting' with their wife Mira Rajput, told- 'Who is better
Bollywood couple shahid kapoor and his wife Mira Rajput are known for their strong bonding. Once the actor talked about 'sexting'. Let us tell you what he said about this. Bollywood actor shahid kapoor and his wife Mira Rajput are a popular couple in B-Town. Mira and shahid may have an age difference of 13 years, but they have proved with their chemistry that understanding, not age, matters for a strong relationship. shahid and Mira, who tied the knot in the year 2015, are parents to two children, Misha and Zain. Over the years, their relationship is getting stronger with each passing time. 
When shahid talked about 'sexting'
Shahid Kapoor and his wife Mira Rajput never shy away from talking about their 'bedroom secrets'. In the year 2019, shahid kapoor and Mira Rajput appeared in actress Neha Dhupia's celeb chat show '#NoFilterNeha'. During this, when host neha dhupia asked shahid who among the two is better at sexting, shahid had a funny answer. shahid had said, "Babara hi hain, give and take hota hai. We are husband and wife, so there isn't a lot of sexting needed."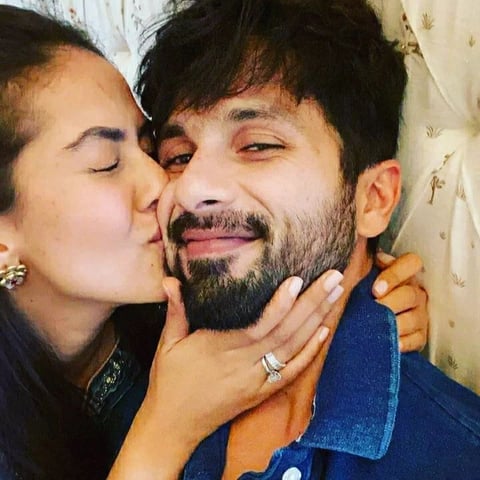 On this revelation of shahid, his wife meera was blushing and was smiling continuously. However, the doting husband later admitted that when it comes to sexting, he is better than Mira. He had said, "But yes, I am better than him in this." shahid Kapoor-Mira Rajput fights on this matter in the bedroom, the actor revealed in 'KWK7', Well, this was not the first time that shahid and Mira talked about their married life. Earlier, in the year 2017 when both appeared together on tv for the first time in 'Koffee with Karan'. Then he spoke openly about his relationship and married life. 
During the rapid-fire round, karan asked meera to choose one of four deal-breaker options in marriage, which included cheating, in-laws' interference, bad sex, and boredom. In response, meera had said, "I don't have in-laws, we are not boring, we don't have bad sex, so it would be 'cheating'." As of now, shahid and Mira have proved time and time again that the age gap doesn't matter. The understanding and chemistry between the two are so matchless that both never fail to give couple goals.
మరింత సమాచారం తెలుసుకోండి: