Alia Bhatt sent gifts for Sonam Kapoor's 7-month-old son Vayu, the actress showed a glimpse
Recently, actress alia bhatt sent customized gifts for Sonam Kapoor's son Vayu, a picture of which has surfaced. Bollywood actress alia bhatt is not only a great actress but also a caring mother and loving wife. Apart from all this, she is also trying to make a mark in the business world. In the year 2021, he started his kid's wear brand 'Add-a-Mamma', about which he spoke openly last year. Meanwhile, she recently sent a customized gift pack for Sonam Kapoor's son Vayu.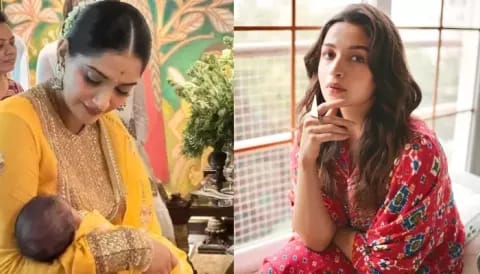 Alia Bhatt sends adorable gifts for Sonam Kapoor's son Vayu
On march 29, 2023, sonam kapoor shared a picture of the gifts Vayu received on her insta Stories, in which we can see a beautiful card in the shape of a house with 'Vayu' written on it. The gift also included a blue box filled with some cute customized outfits for Vayu, with slogans like 'Mama's Boy' and 'Just lion Around' printed on them. sonam kapoor thanked alia for sending this lovely gift for Vayu and wrote, "So lovely, thank you @edamamma @aliaabhatt."
Alia had sent a gift for the sons of 'RRR' co-actor Jr NTR
A few days back, alia bhatt surprised her 'RRR' co-actor Jr NTR's sons Nandamuri Abhay ram and Nandamuri Bhargav ram by gifting them some cute clothes. junior ntr thanked Aaliyah while sharing a picture of two white cloth bags from his insta story. These tote bags of children had 'You are my favorite human bean' written on them. With this, ntr wrote that these gifts had brought smiles to the faces of his sons Bhargava and Abhay. At the same time, he had jokingly expressed the hope of getting a gift for himself as well.
After this, alia reshared Jr NTR's story on her insta Stories and called him the cutest. Responding to his cute joke, alia had written that she would make a whole bunch of special outfits specially designed for him. Thanking him for his cute gesture, alia wrote, "Wow!! Hahaha, I'll be making a whole bunch of special 'ed' wear just for you. You're the cutest. Thank you!!!"
When alia bhatt spoke on daughter Raha's color-coordinated wardrobe alia bhatt, in an interview with 'Elle' magazine, revealed that she often indulges in creating a color-coordinated wardrobe for her daughter Raha, as most new moms do. He also told that now his brand 'Ad-e-Mamma' has become very personal for him. When alia bhatt talked about the guilt of leaving daughter Raha home, Ranbir said- 'He is a chill dad',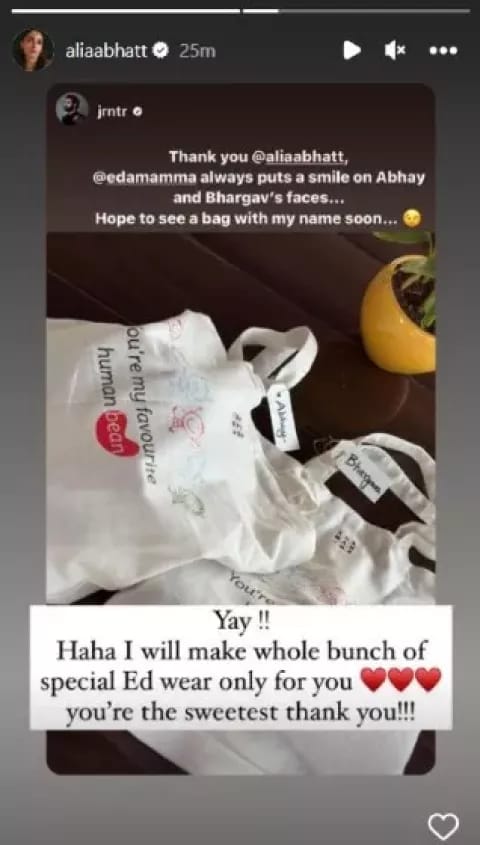 He had said, "It would probably benefit the most from this phase of my life. Now, my involvement in this is completely personal and you cannot put a price on this experience. There was a moment when the first package from the baby collection arrived and I was as excited as a kid in a candy store. Even though it was for my daughter, I was so happy, like someone gifting me products. Things like new clothes for my baby make me very happy."
For information, let us tell you that alia married ranbir kapoor in april last year. A few months later, in november 2022, the couple welcomed their daughter Raha Kapoor. Since then both are often seen talking about their parenthood life
మరింత సమాచారం తెలుసుకోండి: