The hero who targets Vijay's actress..!?

If anyone plays the heroine of Vijay, the entire film will be sentimental. As far as cinema is concerned, if you want to become famous easily, just associate with the leading heroes. They automatically become familiar among people. Especially if it is a Vijay film that has a large number of fans, then it has to be said and done. That's how many actresses are waiting to compete in Vijay's film. In that way, a hero is targeting actresses who acted with Vijay. The reason for that is his sentiment. The sentiment is that if she plays Vijay's heroine, all the films will become hits. All the films he has acted in have become hits and he has come to the point of celebrating him among his fans. That hero is none other than Kavin who is wooing young girls.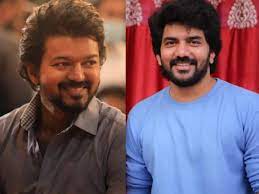 In that order, actress Reba monica who acted in bigil along with Vijay will play the heroine in the web series akash Vani. After that, amrita Iyer, who acted in bigil again, will act as the main heroine in Lift. Aparnathas, who played the second heroine in Vijay's Beast, is next. Kavin will search for her and get her to act in the Dada film. This film also became a super hit and gave both Kavin and Aparnathas an opportunity to act in successive films.
Also, Kavin has started seeing this as a sentiment. But it seems to be correct in a way. Let's wait and see if he can stick it till the end or if this sentiment will continue in his next films as well.

మరింత సమాచారం తెలుసుకోండి: