Burning Question?Oppn boycotts New Parliament's inauguration..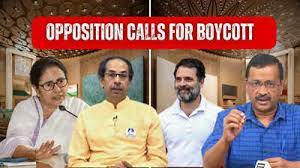 One of the 20 political groups that abstained from the new parliament's opening is the Tejashwi Yadav-led RJD. The Rashtriya Janata Dal (RJD) came under fire today from the bjp for a social media post that compared the design of the new parliament building to a coffin. The bjp claimed that individuals responsible for the social media post should face treason charges.
The country's citizens will bury you in the same casket in 2024 and deny you access to the new temple of democracy, according to bjp spokesperson Gaurav Bhatia. The decision has been made that the coffin belongs to you and the parliament building to the nation.
Twenty political parties, including the Tejashwi Yadav-led RJD, dissented from prime minister Narendra Modi formally inaugurating the new parliament building.
Prime minister Modi's plan to launch the newly constructed parliament building all by himself, without President (Droupadi) Murmu in the slightest, is not only a grave discourtesy but also an explicit attack on our democracy... This dishonest conduct disrespects the President's high office and is against the letter and spirit of the law. In a statement, they claimed that it "undermines the spirit of inclusivity that saw the country celebrate its first woman Adivasi President.
మరింత సమాచారం తెలుసుకోండి: