Record-breaking fall in Pakistani rupee?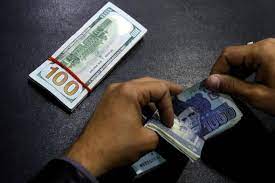 The economic crisis in pakistan has now reached its peak level. Shahbaz Sharif's government does not have foreign currency left even to repay the loan instalment. In such a situation, the Pakistani rupee is continuously falling against the dollar. Now the Pakistani rupee has also touched its lowest level in the last 75 years against the dollar. On Thursday, the Pakistani rupee declined by about 9.67 per cent and after that, the rate of the rupee reached 255.43 Pakistani rupees against 1 dollar. The headache of the Pakistani government has increased because the Pakistani rupee is not likely to stop even on this record decline. In such a situation, the only recourse for the cash-crunched Sharif government is the $6 billion loan from the international Monetary Fund (IMF) under the bailout package, on which the IMF team will visit pakistan in the next 1-2 days to discuss. is reaching
The biggest decline since 1999
The Pakistani rupee depreciated by 9.67 per cent, or Rs 24.54, against the dollar on Thursday, the biggest one-day fall in the history of the Pakistani economy since the introduction of the new exchange rate system in 1999. This decline happened a day after the removal of the cap imposed on the exchange rate by foreign exchange companies. This cap was imposed in the year 2018 under the conditions laid down by the IMF for giving a bailout package.
మరింత సమాచారం తెలుసుకోండి: