Free Public Transport, Grain & Reduction in power bills!!!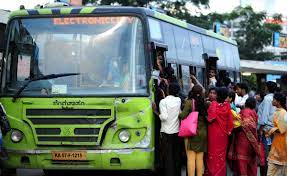 Siddaramaiah, the chief minister of Karnataka, expressed today that the Congress-led administration will uphold all five electoral promises without regard to caste or religion. 
The administration stated that it anticipates that these programmes will cost roughly Rs 50,000 crore annually following the May assembly elections, in which the congress won 135 out of 224 seats to win an absolute majority. Following his second cabinet meeting, the chief minister declared that the state has "decided to implement the five guarantees without any discrimination of caste or religion."
GRUHA JYOTI
The Cabinet's first assurance, according to Siddaramaiah, is the Gruha Jyoti, which provides 200 units of free electricity. "Starting from July 1, all homes will receive 200 free energy units every month through Gruha Jyoti. customers must, however, make good on any arrears. We will compute the average electricity bill use over the course of a year, and we will then deduct 10% from that figure. You would not be charged for anything up to 200 units of your consumption, he stated.
GRUHA LAKSHMI
According to the chief minister, women must submit their bank account information, an Aadhaar card, and an application to identify the head of the family in order to take advantage of this programme. "Once identified, they will receive monthly assistance of Rs 2,000. Between june 15 and July 15, applications must be filed online. We will begin the plan after the data processing is finished by august 15 and the money will be deposited into the women's accounts.
మరింత సమాచారం తెలుసుకోండి: