What made kohli angry with his fans?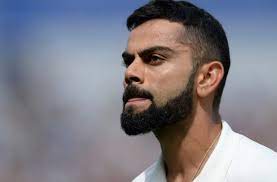 How can this happen if there is virat kohli on the field and the fans do not get some entertainment. Something similar was also seen in the second match of the t20 series played against Australia. But this time kohli was not seen in the mood for fun with the fans, but he was seen explaining something to the fans. What made kohli angry with his fans, let us know.
This video of kohli expressing his displeasure with the fans is being seen a lot on social media and is also being widely shared. In the video, some fans are seen shouting RCB, RCB, RCB... as soon as they see Kohli. Whereas kohli fans are feeling annoyed at doing this. Along with kohli, Harshal patel and yuzvendra chahal are also in the video. Because of seeing these three together, the fans start raising slogans of RCB-RCB instead of Team India. Harshal still plays with kohli for RCB, while chahal has also played for RCB under Virat's captaincy for a long time.
Seeing this, kohli immediately asks the fans to shut up. While showing the jersey of his indian cricket team to the fans, kohli tries to tell that he is the player of Team india and not of RCB. kohli is telling the fans that he is playing for Team india and not for RCB. After this, kohli gives such a reaction that it seems that he is telling the fans that you all also do amazing. In the video, Harshal patel is seen smiling when the fans repeatedly say RCB-RCB. While chahal gets away from the camera while talking to Kohli.
The second t20 match of the series between india and australia has been very exciting. With the help of Rohit Sharma's captaincy innings, Team india has won the nagpur T2 and leveled the series 1-1. Now Team india is going to play the last and final match of the series tomorrow i.e. on 25th september in Hyderabad.
మరింత సమాచారం తెలుసుకోండి: