Indians who drowned in canada river..!?

Six people, including three indians, have drowned in the river while trying to enter the US illegally from Canada. The St. lawrence River flows along the Canada-United States international border in the Mohawk. The police received information about some dead bodies floating in the river. The police rushed there and seized the dead bodies and conducted an investigation. Mohawk police said a three-year-old child was among the dead. Canadian prime minister Justin Trudeau expressed his concern that the frequent occurrence of such tragedies is heartbreaking and that he is taking serious measures to prevent them.

Three of the deceased were Romanian nationals and a search of their belongings revealed a Canadian passport belonging to a three-year-old child. Officials have also said that another child who came with them has gone missing. The police have also said that a search operation is underway with the help of the country's fire brigade, coast guard, and volunteers to see if there are more bodies in the river. Officials have said that there have been incidents of illegal immigration crossing this river to the united states or canada from last january until now.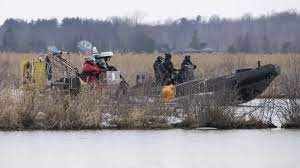 Officials have also said that most of those involved in illegal immigration are indians and Romanians. Also, more human trafficking crimes are taking place in this area. The police are engaged in intensive patrolling to prevent it. To prevent such illegal immigration attempts, to prevent accidents, to bring about 105 kilometers of this area under strict surveillance, and to close the Roksham road that enters canada, Canadian immigration officials said that they are seriously considering. It is noteworthy that many people often try to enter canada and the united states illegally through Mexico, and many of them lose their lives.
మరింత సమాచారం తెలుసుకోండి: