Karan Johar hugs priyanka chopra at Ambani party, did kangana Ranaut's bet backfire?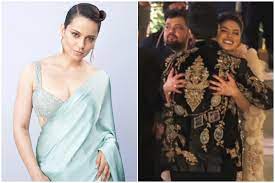 Priyanka Chopra-Karan Johar: Recently priyanka chopra had made many revelations about Bollywood. Along with this, the reason for leaving the industry was also told. On this, the users also made many allegations against karan Johar. But now, seeing the bonding of karan and priyanka in an event of Ambani recently, all the claims of kangana were seen to fade away.
Business tycoons mukesh ambani and Nita Ambani inaugurated the Nita mukesh ambani Cultural Center (NMACC) on Friday. The opening ceremony was hosted by reliance Foundation Chairperson Nita Ambani and her daughter Isha Ambani. reliance industries CMD mukesh ambani and his entire family were present at the launching event. Many bollywood celebs attended the ceremony on this occasion. Global icon priyanka chopra also attended the function with husband Nick Jonas. Both of them grabbed the maximum limelight in the ceremony. Many pictures of the couple are going viral on social media. Meanwhile, a video is going viral in which priyanka and filmmaker karan johar can be seen hugging.


Let us tell you that karan johar and priyanka Chopra's reunion was the most special in Ambani's event. The two met each other after a long time and upon seeing each other hugged each other. After which the market of discussions is hot. In fact, in a recent interview, priyanka chopra revealed that she turned to hollywood because of the ban in bollywood films. There was a lot of stir after this statement.
At the same time, at Ambani's party, karan and priyanka hugged each other like good friends and talked in a fun way. This video of their bonding has been made in the limelight. However, many users have trolled both of them. One commented, 'Tell me, first he was taken out of bollywood and now he is getting a hug too. How false and pretentious is the world.

Let us tell you that seeing karan and Priyanka, it was not felt from anywhere that everything would not have been fine between them professionally in the past. In such a situation, it can be difficult to guess how true is the claim of actress kangana ranaut that karan johar banned Priyanka. Apparently kangana had tweeted, 'This is what priyanka wants to say about bollywood, people ganged up against her, bullied her and showed her the way out of the film industry. Priyanka, who made her own identity on her own, had to leave India. Everyone knows that karan johar banned him.

మరింత సమాచారం తెలుసుకోండి: