Football
king
Pele passed away...Fans are in tears...
Famous football
legend
Pele from
brazil
passed away at the age of 82. Pele, known as the
king
of football, holds the record of being the only player to win the
world cup
three times. Pele, who impressed even the opposing fans with his great performance, has now left football fans with unspeakable grief. Pele has played 95 matches for
brazil
and has scored 77 goals.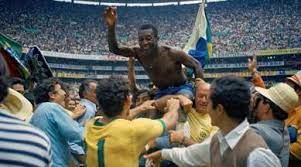 Born on
october
23, 1940, in
brazil
, Pele is also known as the best sportsman of the century. Pele started playing football for Santos at the age of fifteen. At the age of 16, he gained a place in the
brazil
national team after attracting a lot of attention at a young age. Following this, at the age of 18, Pele won the trophy for
brazil
in the 1958 World Cup. With this, Pele became the only footballer to win the
world cup
at a young age. After this, Pele was the main reason the Brazilian team won the
world cup
in 1962. After this, Pele also has the honor of being the only player to win two consecutive World Cups.
Then Pele played in the 1970
world cup
and won the trophy for Brazil. This made him the only footballer to win the
world cup
three times. This record has not been broken by any player till now. Pele who is known as football
king
has scored 1279 goals in his football career so far. During his playing career, Pele was the highest-paid athlete. Pele retired from football in 1977 and has been a special ambassador for football ever since.
Many political parties took advantage of Pele's influence and fielded him in the elections. From 1995 to 1998, Pele was Brazil's
minister
of Sports. Pele was diagnosed with
cancer
in his old age and underwent surgery for it in 2021. Due to his advanced age, Pele's body did not cooperate with the treatment. Pele, who was admitted to the hospital on
november
29, died after a month-long struggle. Pele has been married three times. He has a total of seven children.
మరింత సమాచారం తెలుసుకోండి: