Leave my daughter alone...Keerthy Suresh's father..!?

While various rumors are spreading on social media about actress Keerthy Suresh's marriage, Keerthy Suresh's father has released a very touching video and made a request. Keerthy suresh is a leading actress in tamil and telugu film industry. After winning the National Award, Keerthy suresh has been busy focusing on her next films, but there are always some rumors around her. Keerthy suresh has already been linked with Anirudh, Keerthy's college friend and a businessman in a romantic controversy, but recently he was in Dubai. She posted a picture together with businessman Burhan and wished him a happy birthday...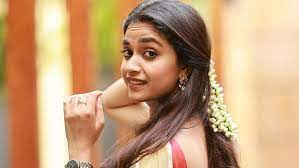 This romance turned out to be a source of controversy. Especially since both of them were dressed in the same color, Keerthy suresh said on social media and in the media that she has been in love with dubai businessman Burhan for a long time and that she is going to get married soon. The news spread like wildfire. keerthi suresh then put an end to this rumor by saying that he is only a close friend of Parhanthan and that there is no truth in the rumors about her getting married to him, and she will introduce the person she will marry when the time comes. keerthi suresh is now followed by his father Suresh.
He published one. In it, the news of keerthi and Burhan's marriage is completely false. Keerthy suresh posted the photo only to wish Burhan on his birthday. Once Keerthi's marriage is confirmed, he himself will release the official information about it. Until then, Keerthy suresh has requested that no one spread rumors about the marriage.
మరింత సమాచారం తెలుసుకోండి: