Pervez musharraf, Former President of pakistan passed away...

Former prime minister of pakistan Pervesh musharraf passed away at the age of 79. pervez musharraf became the country's president in 1999 in a military coup that overthrew the regime of prime minister Nawaz Sharif. He refused to do so even when he announced that he would give up his military post after taking office. He has indicated that he will step down from the post of army chief if he wins the next election. He is following a pro-American policy.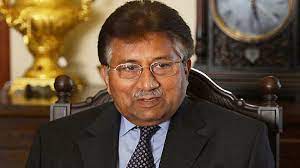 His influence among the people began to wane after the dismissal of the country's high court judge in march 2007. And in July 2007, on his orders, the Pakistani army, which had besieged Islamabad's Grand mosque for a week, entered and killed pro-al-Qaida militants there.
On 18 august 2008, he resigned as Prime Minister. The death of the Former President of pakistan Parvesh musharraf came as a shock to all. He was 79 years old. He was suffering from health problems and was undergoing treatment at a hospital in dubai for the past year. According to the hospital, his organs failed and he died. musharraf has been living in dubai since 2019. In 1999, Parvesh musharraf seized power in pakistan as the army chief.
మరింత సమాచారం తెలుసుకోండి: