New parliament Building-PM Modi to Inaugurate!!!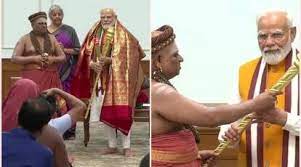 A day before he dedicates the new parliament building, prime minister Narendra Modi met with Adheenams today at his home and solicited their blessings. The Adheenams, who had earlier in the day travelled from tamil Nadu, met Modi at his home and gave him special presents, including "Sengol," while chanting "mantras."The new parliament structure, which can accommodate 888 members in the lok sabha chamber and 300 in the rajya sabha, will be officially opened by prime minister Narendra Modi. 
The lok sabha chamber can accommodate 1,280 people at a time when both Houses are meeting jointly. The new legislative building's foundation stone was placed by the prime minister on december 10, 2020. Both the lok sabha and the rajya sabha asked the government to build a new parliament building in resolutions.
The new structure, built by Tata Projects Ltd., would have a regal constitution hall to highlight India's democratic legacy, an MPs' lounge, a library, many committee rooms, dining places, and plenty of parking. The four-story, triangular structure has a built-up area of 64,500 square metres. Even though 20 Opposition parties have made the decision to boycott the ceremony, up to 25 parties are anticipated to attend the inauguration of the new parliament building on Sunday. legislative building
మరింత సమాచారం తెలుసుకోండి: