Is rohit sharma out of World Test championship series?

With the World Test championship final starting tomorrow, captain rohit sharma got injured during net practice today which shocked the fans. Both the players of the team are practicing net in london for this series. TN player Ashwin had already accused that the ground provided to the team was so dangerous. He mentioned that the batsmen of their team were struggling to face the ball due to the high bounce of the ball and some of them were hit on the hand.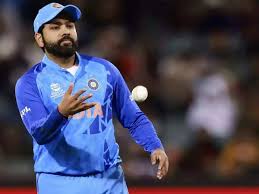 Then a ball hit the captain Rohit Sharma's hand. As a result, rohit sharma, who was in pain, withdrew from the training. After this, the indian team's medical team examined Rohit Sharma. It seems that his injury is not very major. First, there were rumors that rohit sharma had gone for normal scan.
But now it is said it is not that big and it is a light one. However, bcci has not made any official announcement about this. Perhaps if rohit sharma is injured and unable to participate in the tournament, there is a chance that jaiswal, who has gone to england as an extra player, will replace Rohit Sharma. jaiswal has played well in many Ranji matches and has scored top double centuries. This makes him a good replacement player. However, the indian team may miss Rohit Sharma's experience and captaincy.
మరింత సమాచారం తెలుసుకోండి: