World Down Syndrome Day: History...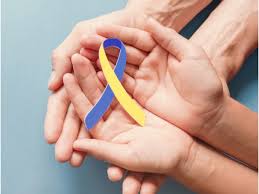 On Tuesday(i.e today), march 21, there will be a celebration of World Down Syndrome Day. The goal of celebrating World Down Syndrome Day is to forge a unified front that fights for the rights, acceptance, and well-being of the Down syndrome community.
History 
Between 2006 and 2010, the Down Syndrome Association of singapore created and maintained the World Down Syndrome Day website. Down Syndrome international was represented by this action. Later, the Brazilian Federation of Down Syndrome Associations collaborated with DSi and other members to launch a campaign to garner support on a worldwide scale.
Following the joint efforts of poland and Brazil, a motion was unanimously approved on november 11, 2011, during the Third Committee's plenary session. A worldwide petition started by the DSi that garnered more than 12000 signatures in just two weeks was also delivered to the Third Committee Chair.
World Down Syndrome Day was first marked in 2012, after the UN General assembly formally declared it to be so on december 19, 2011. The date of march 21 was chosen as World Down Syndrome Day to reflect the rarity of the triplication of the 21st chromosome, which causes Down syndrome. The purpose of World Down Syndrome Day is to promote equitable treatment of people with Down syndrome in all spheres of society. "With Us Not For Us" will be the subject of World Down Syndrome Day in 2023.
మరింత సమాచారం తెలుసుకోండి: