Biggest Earthquakes in the last 125 years#Part 1...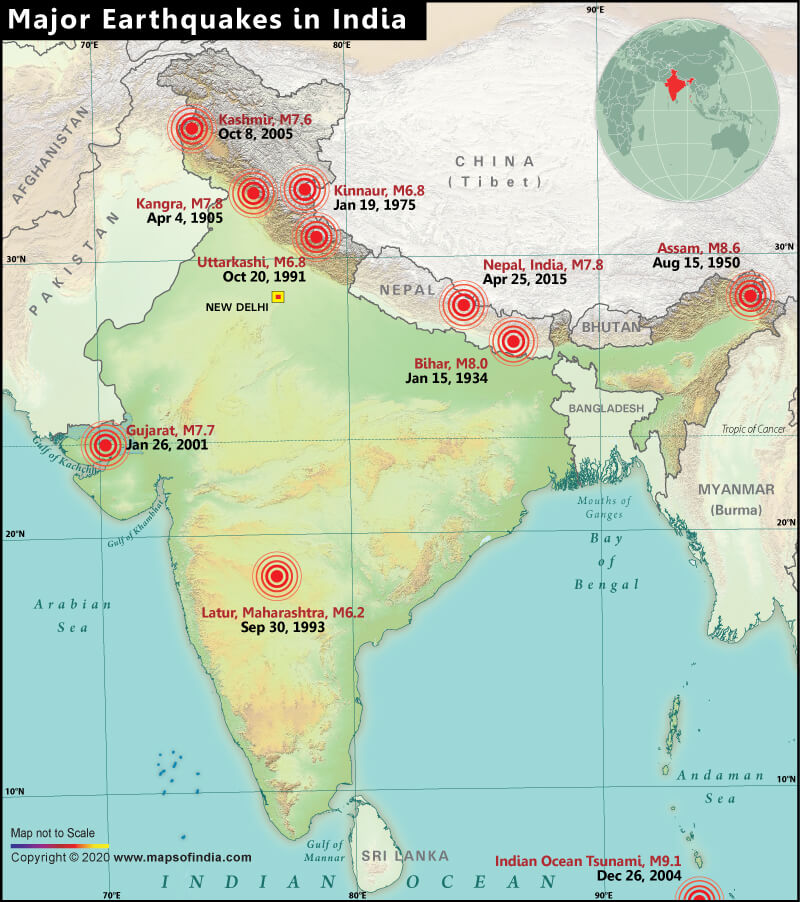 1. On august 15, 1950, when the country was celebrating its first Independence Day after being declared a republic, an earthquake struck assam and Tibet, killing more than 1,500 people. With a magnitude of 8.6 on the Richter scale, this is the biggest earthquake in india in the last 125 years. Its epicentre was in the city of Rima in Tibet.
2. On january 15, 1934, one of the worst earthquakes in the history of india shook the earth on the Bihar-Nepal border. The epicentre of this earthquake of about 8.3 magnitudes was in eastern Nepal, but its effect was so great that its tremors were also felt in Kolkata, about 650 km away. 
3. On june 12, 1997, an earthquake measuring 8.1 on the Richter scale occurred in Shillong, Meghalaya, in which 1542 people died officially.
4. On april 4, 1905, a terrible earthquake occurred in Kangra, Himachal Pradesh. More than 20,000 people are estimated to have died in this earthquake of about 7.8 magnitudes on the Richter scale.
5. On january 26, 2001, when the country was celebrating the 51st anniversary of the Republic Day, the kutch region of gujarat was shaken. The earth kept shaking for about 2 minutes due to the terrible earthquake that occurred at 8.40 am. Many villages and cities were completely destroyed by the 7.7 magnitude earthquake on the Richter scale. 
మరింత సమాచారం తెలుసుకోండి: