Many people find it difficult to add shine to their hair when they are dealing with issues such as hair loss, hair density loss, hair loss, and dull hair. However, just keeping these four things in mind will keep your hair as gleaming as your face. Massage your hair with oil. Both applying oil to the hair and rubbing it together can enhance shine. 

The outer layer of the hair will benefit from the use of oil. Gently massaging the scalp with the fingertips daily promotes hair development. 5 drops of oil should be massaged into the skin regularly. Rub on the head to promote hair growth. Because the hair has a naturally greasy glow, it shines more. 
Serum and conditioners 
Hair conditioners and serum can help keep your hair from drying out. It's a way to keep your hair from becoming coarse. To keep hair lustrous, soak a thin strip in hot water, wrap it over the scalp, and condition it. 
As a result, hair requires both conditioner and serum. The hair may shine if you utilize it according to the nature of your hair. Keep yourself hydrated. 1 teaspoon of fish oil can be added to your daily juices.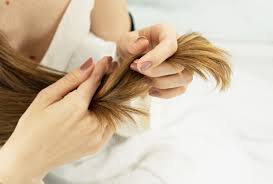 This will make a significant change in the appearance of the skin and hair. These will also aid in the lustre of the hair. Relax and unwind without feeling rushed. One of the most fundamental physical factors influencing a hurried lifestyle is stress. Hair loss and dullness are two of the most common signs of stress. Setting aside some time each day to meditate or try to keep your mind peaceful for 15 minutes with your eyes closed is essential. Do something you enjoy, such as meditation or pranayama. This will help you feel at ease and stress-free. Hair will be lustrous and grow in a consistent pattern.
మరింత సమాచారం తెలుసుకోండి: