Rain disaster... 19 people died, 22 districts affected..!?

Rain is continuing in Uttar Pradesh. In the last 24 hours in UP, 19 people have lost their lives due to heavy rains, floods, and lightning. Many areas were flooded. The government has announced a holiday for schools in many districts. lucknow district Magistrate surya Pal Gangwar has taken precautionary measures by closing schools temporarily. Additionally, an advisory has been issued asking people to limit non-essential outdoor activities due to the risk of severe thunderstorms. In details... 19 people have died due to the rains in Uttar Pradesh in the last 24 hours. Due to the incessant rains, many areas were inundated with heavy rainwater. Schools were closed in many areas. More than 40 mm of rain has fallen in 22 districts of the state in the last 24 hours. These include Moradabad, Sambhal, Kannauj, Rampur, Hathras, Barabanki, Kasganj, Bijnor, Amroha, Bahraich, lucknow, Badaun, Mainpuri, Hardoi, Firozabad, Bareilly, Shahjahanpur, Kanpur, Sitapur, Farrukhabad, Lakhimpur, Farrukhabad, Khatipur. Four in Hardoi, three in Barabanki, two each in Pratapgarh and Kannauj, and one each in Amethi, Deoria, Jalaun, Kanpur, Unnao, Sambhal, Rampur and muzaffarnagar districts.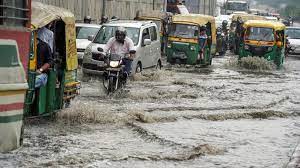 In this context, chief minister Yogi Adityanath has directed the authorities in the affected districts to speed up relief efforts and provide assistance to the disaster victims. He stressed the importance of an effective drainage system and constant monitoring of river water levels in water-logged areas. He said that there is a need to assess the crop loss and submit a report to the government to provide compensation to the affected farmers by the rules. The Meteorological Department has warned that heavy rains are likely to occur in the eastern region till september 14 and light rains till september 17. It is in this context that the government is taking more precautionary measures. The western part of the state is expected to receive rains till september 17 and a thunderstorm warning is in effect till september 15. In Barabanki, train services were disrupted due to standing water on the railway tracks. Later, the trains were allowed to proceed very slowly, although a passenger stopped the train temporarily.
The district Magistrate of lucknow has ordered schools to be closed. people have been advised to avoid non-essential travel due to the possibility of severe thunderstorms. All the district-level officials in lucknow are actively assessing the problems caused by the rains. Goshalas are also being inspected and arrangements for their security are being reviewed. Roads were severely damaged in many districts. As the main road collapsed due to heavy rains in Gomti Nagar, traffic diversions and immediate action were taken by the higher officials. In all eight tehsil areas of Lakhimpur Kheri, all schools up to class 8 have been closed due to heavy rains. Main roads and approach roads in many urban and rural areas have become waterlogged due to incessant rains since sunday night. As a result, the Nipun Assessment Test (NAT) scheduled to be held on monday and tuesday in all government primary and secondary schools has been postponed.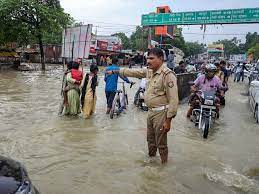 Officials of the Relief Commissioner's office said that 19 tehsils of 10 districts were affected due to floods in Ballia, Barabanki, Badaun, Farrukhabad, Kasganj, Kheri, Kushinagar, Mau, meerut and muzaffarnagar districts. Also, 173 villages with a population of 55,982 were affected. He said that lunch packets and food grains are being distributed to the victims. He said that rivers are not flowing beyond the dangerous level in the state at present. However, it is stated that there are situations where the water level is gradually increasing.

మరింత సమాచారం తెలుసుకోండి: