Another song from Thunivu is leaked..!?What's happening..?

While Anirudh's Chilla Chilla song was leaked yesterday, today another song from the film Thunivu has been leaked. Ajith's upcoming film Thunivu. This is the third film produced by director H. Vinoth - Ajith. Along with actor Ajith, malayalam actress manju warrier is also playing the lead role in the film. Apart from this, bigg boss celebrities Mamati Chari, Pavni, Aamir, and Cibi have also played important roles in Thunivu. It was announced a few days ago that the first song in his music titled Chilla Chilla will be released on december 9. With just two days left for the song to be released, it went viral online last night.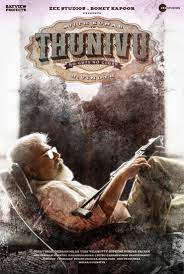 The full audio sung by Anirudh gave some comfort to the film crew who did not leak. With the controversy still not over, now one more song from the film has been leaked. Currently, the song titled Kasedhan Kadavulada sung by Hip-hop Adi for Thunivu is leaked.
Even though the release of the songs is shocking, netizens are alleging that they are being leaked like this on purpose for the promotion of the film. It is to be noted that Thunivu is slated to hit the screens during the pongal festival in January.
మరింత సమాచారం తెలుసుకోండి: