This director cannot come close to ajith & Vijay..!?

Both Vijay and ajith are competing as leading actors in tamil cinema. They are flying so high that no one can come close to them by holding a special place. But they did not reach this place easily. They faced many humiliations and failures through the films they acted in the early days and then gradually progressed and grew. Not only these but all the rising stars too have faced a lot of difficulties in the beginning and achieved success. But at present, one person, or something, is the only one who is putting over the scene that he has faced a lot of humiliation in the cinema. Not only that, but he has been collecting the money as if someone is hindering his development.

There is none other than Vignesh Shivan. He directed about five films and out of that, only two or three films became hits. But that's why he jumps to heaven and earth and rambles that he is a great director. Recently he was to direct Ajith's film AK 62. But due to his indifference, that opportunity was lost. Since then, he has been posting a lot of posts on the website as if he had suffered great humiliation. But he is not qualified for all this. He is an ordinary director like any other director. But if he gets any ajith film, mani ratnam might be on the same level as he is making a statement.

And now that Ajith's film has slipped out of hand, Vignesh Shivan's target is to direct a film parallel to ajith and release AK 62 on the same day. Talks are going on with some actors in this regard. Also comes from over-imagination. All he has is Lady Superstar Nayanthara. It is with that brand that he has been in the cinema with the name of a director.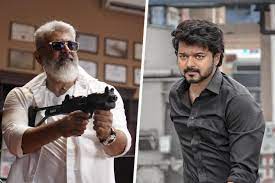 If he doesn't have such a person, he is like other directors. If you keep this in mind and direct the film with the right aim, there is a chance of success. It has been widely talked about in the film circles that even if he wants to get close to Vijay and ajith by leaving it behind, he should have a qualification for that too.
మరింత సమాచారం తెలుసుకోండి: