South indian cinema is the best..!?

That's why Kajal Agarwal wants to act in South indian cinema. kajal aggarwal said that many people want to start their careers in Hindi. Married and mother of a baby boy, kajal aggarwal is back in films after a break. As part of this, kajal aggarwal is playing the lead role in Kamal Haasan's indian 2 directed by Shankar.
 Kajal Aggarwal is said to be playing an elderly role opposite Kamal in the film. Rockstar Anirudh is composing the mass music for this film. In a recent interview, she said that hindi is her mother tongue. She grew up watching hindi movies. But the virtues, morals, and values that exist in South indian cinema are lacking in hindi cinema.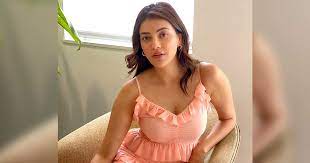 That's why she wants to act in South indian cinema. Many people want to start their career from Hindi. It is because of the fact that it will get good recognition at the global level. But there are talented artists in South India. She said that the best films are coming in Tamil, Telugu, Malayalam, and kannada languages. This interview given by Kajal is trending on social media and is liked by many fans in South India.
మరింత సమాచారం తెలుసుకోండి: