How does economic survey relate to the 2023 Union Budget?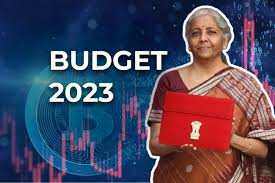 Several estimates for the Union Budget 2023, which will be presented by Finance minister Nirmala Sitharaman on february 1 in Parliament, are included in the Economic survey 2022-2023, which was released on Tuesday.
In addition to offering many forecasts for the future year and speculating on what the Union Budget 2023 might hold in store for the general public, the Economic survey 2022 has reached a number of findings for the fiscal year 2022–2023 as well.
The indian economy is expected to grow at a slower rate than the 7 per cent (in real terms) forecast for the current fiscal year ending in march 2023, according to the economic survey, which is always released the day before the budget for the following fiscal year is unveiled. On april 1, the following fiscal year will start.
According to the Economic survey, real GDP growth for the upcoming fiscal year 2023–2024 is expected to be 6.5% on average. The projection, according to the survey paper, is broadly equivalent to the projections made by multilateral organisations including the World Bank, the IMF, the ADB, and RBI.
A day before the release of the national budget for the upcoming fiscal year, Union Finance minister Nirmala Sitharaman today introduced the Economic survey for 2022–23 in Parliament. The Economic survey and the Union Budget have a close association, which is why they have only released the one-day gap.
The Economic survey gives predictions for the following fiscal year and offers an overall evaluation of the economy's performance in the previous fiscal year. It provides background information on the nation's financial developments and has significant connections to the budget.
In the year 1964, it was decided to separate the Economic survey of india from the Union Budget and present it one day before the budget. It is regarded as a vital document since it assesses how the Budget for the current fiscal year fared and provides an indication of what lies ahead.
మరింత సమాచారం తెలుసుకోండి: