A growing number of flexes on the roadside are causing hazards to passing vehicles and pedestrians as the political climate in the State heats up in the wake of the impending assembly elections. The menacingly constructed disk-shaped flexes continue to be a nuisance and occasionally result in freak accidents in addition to causing blind spots on roads.


Despite concerns from social activists, the government's response is still sluggish, especially when it comes to the State and Center's ruling parties. The response from officials was unexpected when P srinivas informed them on september 20 that one disc-shaped flexi was causing a risk at signals at Chintal Main Road. Need your focus... Please take action before something unfortunate happens to passengers!," he said on X, tagging minister K T Rama Rao and other relevant agencies.
He was surprised by the response. The Central Enforcement Cell of ghmc responding to his post said, "Address details for generation of e-challan against the person or entity as they are not available in the picture. e-challan will be generated after a field enquiry."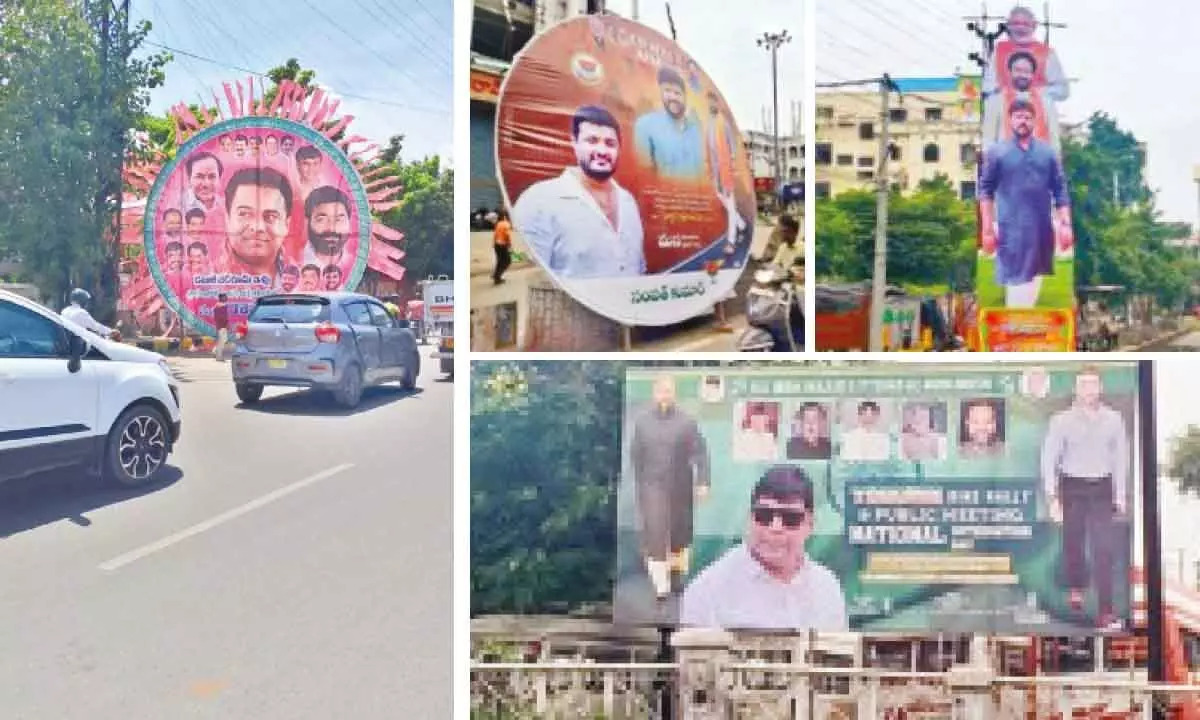 Politicians have become quite savvy; there is no mention of names on the paper. The activist questioned, "How can I give the EVDM team the address on this? Another activist, Bellam srinivas, drew attention to the issue and pleaded the authorities to put an end to the flexi culture. People's lives can be lost due to Flexis both before and after installation. Save lives by putting an end to flexi culture, he pleaded.

Srinivas also made reference to stories from the morning of september 20 when numerous people were hurt. Several persons were reportedly electrocuted at around 5 am while washing KTR's flexi close to the Chintal bus stop near Jeedimetla. According to reports, the event harmed at least four people.
Politicians like MBT's Amjedullah Khan started griping as "Liberation Day" got closer about the many flexis being planned to attract people's attention starting on september 14. He posted images of AIMIM and bjp flexis to persuade the ghmc to issue challans. He shared images of AIMIM flex banners from places including Chatta Bazar, Nayapul, and Moazzam Jahi Market, calling them "illegal." He informed ktr about them. "KTR Sir, the entire city is covered in unauthorised flex banners. See these Chikoti praveen Kumar banners from Karmanghat to Moazzam Jahi Market via Saidabad, Chaderghat every time we have to wake up ghmc to execute its responsibility, he urged.
Interestingly, the Central Enforcement Cell responded on september 16. It generated e-challan on AIMIM flexis. The local AIMIM leader was penalised Rs 5,000 each for 'Unauthorised erection of banners and cutouts'. However, the ghmc wing is yet to respond on bjp flexis.

As elections get near, candidates are working harder to catch the party high command's attention. Top leaders came to the congress Working Committee (CWC) meeting, and candidates competed to build disk-shaped flexis on Road No. 1. In addition to causing traffic problems, these gave drivers blind areas. A similar large flexi struck this reporter at telangana Bhavan almost two months ago as he was walking back from The Hans india office. It was a rainy day; in the pitch-black night, a few workmen began removing a few installed flexis at the divider without giving any prior notice or caution.

Less likelihood of controlling the car due to the steep drop from Basavatarakam Indo-American cancer Hospital. To commemorate KTR's birthday, the flexis were built. Fortunately, he avoided suffering a serious injury.







మరింత సమాచారం తెలుసుకోండి: