Durgam Cheruvu, which has developed into a popular tourist destination, gained a new attraction on monday in the shape of musical fountains, which were officially opened by Mayor Gadwal Vijayalaxmi and Serilingampally mla A Gandhi. hmda designed the melodic fountains and the landscaping for a project that cost over Rs 8 crore. 200 people can be seated, and there are three 15-minute shows daily between 7 and 10 p.m.; on weekends and holidays, there are four shows.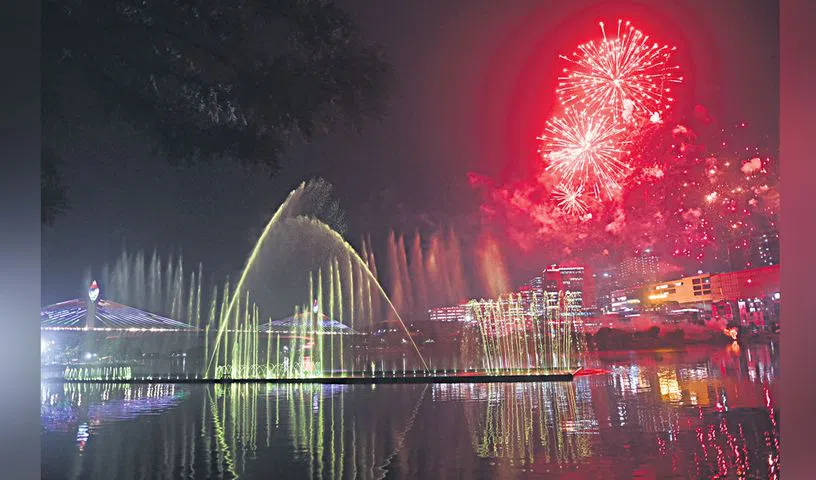 On monday, a state-of-the-art musical fountain and a sewage treatment plant (STP) with a seven MLD (million litres per day) capacity were dedicated, further enhancing Durgam Cheruvu's aesthetic appeal.

The STP at Durgam Cheruvu, which was constructed for Rs 35.11 crore, would stop sewage discharge in the Serilingampally Circle catchment regions, while the musical fountain was created for an estimated Rs 80 lakh. According to authorities, the STP will utilise the Sequential Batch Reactors technology and include two reactors with a combined capacity of 3.5 MLD, one interception and diversion structure, and a 100 Rmt trunk sewer.
All of the sewage produced in Silicon Valley, Megha Hills, Kavuri Hills, Jubilee Hills, Nandagiri Hills, Silent Valley Hills, HUDA Madhapur, and Madhura nagar Colony will be completely treated at the facility. This would safeguard the local water resources while also enhancing cleanliness in the catchment regions. The State government has approved the establishment of 31 STPs totaling 1259.50 MLD at a cost of Rs 3,866 crore. The bulk of these plants, which will be constructed across three phases, will be finished by march 2024.





మరింత సమాచారం తెలుసుకోండి: