Dinosaurs have lived in India..!? 256 eggs found!?

We have heard many stories about dinosaurs since our childhood but many people who talk about dinosaurs have never seen a dinosaur even once. Dinosaurs are said to have appeared centuries before the time of humans. We have seen many photos and videos of dinosaurs. Imaginations of dinosaurs may also have been with us since childhood, as far as we know dinosaurs are large in size. According to some studies, dinosaurs did not live in all parts of the world but only in certain regions. Although some say that the existence of dinosaurs is a myth, some studies show evidence that dinosaurs lived in the world.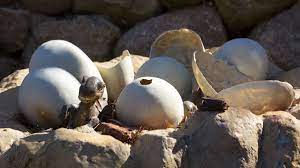 While researchers are finding dinosaur eggs, nests, and bones in many places, now a rare and interesting discovery has been made in Madhya Pradesh's Narmada Valley. A team of paleontologists has discovered 92 closely spaced dinosaur nests and 256 fossilized eggs of herbivorous dinosaurs in the Thar district, part of the Narmada Valley in Madhya Pradesh. Dinosaur eggs and nests have been found in many parts of the world before. The present research suggests that the Narmada Valley region of madhya pradesh may have been a fertile breeding ground for dinosaurs for millions of years.
Between 2017 and 2020, a team of paleontologists conducted research in several villages in the Bagh and Kukshi regions of the Thar district. Harsha Diman, vishal Verma, GVR Prasad, etc. participated in this research and published the thesis. Nests and eggs found in villages of Thar district are believed to be 66 million years old.
Dinosaurs may have come to this part of Narmada valley to lay their eggs or hatched there. Studies have shown that the eggs found here are evidence of both hatching and non-hatching. As no bones were found here, the researchers said a micro CT scan was needed. The nests found in the Narmada Valley are close to each other and the nests are 15 cm to 17 cm in diameter, the report said. Each nest is said to contain between one and 20 eggs.
మరింత సమాచారం తెలుసుకోండి: