Anusha Sharma hugged and consoled Virat Kohli..!?

Anushka Sharma hugged and consoled virat kohli who left crying after the indian team lost by 6 wickets in the final match against Australia. The world cup final between india and australia took place today. In this, australia won the toss and fielded. Accordingly, the indian team, who batted first, lost all wickets in 50 overs and scored only 240 runs. In this, KL rahul scored 66 runs, virat kohli scored 54 runs and rohit sharma scored 47 runs.
Then chasing a simple target, David Warner shocked the Australian team by getting dismissed for 7 runs. Mitchell Marsh was dismissed for 15 runs and steve smith for 4 runs. After that, both Travis Head and Marnish Labuschagne kept their composure and hit boundaries when needed. Finally Travis Head scored a century. He continued to play and was dismissed after accumulating 137 runs in 120 balls including 15 boundaries and 4 sixes.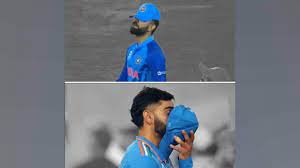 Marnish Labuschenne scored 58 runs and Glenn Maxwell scored 2 runs to win. Finally, australia scored 241 runs for the loss of 4 wickets in 43 overs and won by 6 wickets. The indian team, which has played well in all the 10 matches played so far, failed in the final match and disappointed the entire 130000 fans. Virat Kohli's wife Anushka Sharma hugs him and consoles him after losing the final. virat kohli who played well in this world cup series scored 765 runs and topped the list of highest run scorers and won the Man of the Series award.

మరింత సమాచారం తెలుసుకోండి: