FM Nirmala Sitharaman's first reaction on adani Group...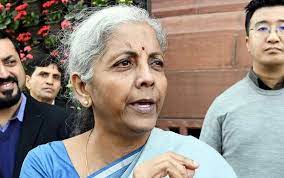 Even after adani Group's denial of the report of US-based short seller Hindenburg, their shares have fallen heavily. Meanwhile, Finance minister nirmala sitharaman has also given her reaction on the investment made in LIC's adani Group and the loan given by SBI. Talking on this matter for the first time, she said that the exposure of sbi and lic to adani Group companies is within the approved limit.
Talking about this in an interview, Finance minister Nirmala said that both sbi and lic have issued a detailed statement regarding the adani Group. Both were told that they are not exposed. She has clearly said that his exposure is within the limit and he is making a profit.
Responding to the question of global investors selling adani Group and postponing investment in the current situation, nirmala sitharaman assured foreign investors and said that India's administrative system is very strong. The Finance minister said that our regulators are very strict about governance practices. 
What did the finance minister say about the fall of the stock market on budget day?
Talking about the fall in the stock market on the budget day (February 1) due to the adani Group, Finance minister nirmala sitharaman said that the stock market had welcomed the budget, but whatever the reason the market may have fallen, I am sure that the coming In time, the budget will have a good impact on the stock market.
మరింత సమాచారం తెలుసుకోండి: