Never Met Her Partner..!?  Then Shubman Gill..!?

Bollywood actress sara ali khan has opened up about the possibility of marrying a cricketer. Actress sara ali khan has acted in many films like Kedarnath, Simmba, love Aaj Kal, Coolie No. 1. He and indian cricketer Shubman Gill have been dating for a long time. Both did not comment on this. But, cricket is not a problem for him.
The person who can come to him can be a cricketer or a businessman. But sara ali khan said that he should match her mentally and intellectually. He can be a doctor, actor, businessman, or cricketer. But she has said that she needs to be mentally and intellectually compatible with herself. Also, she was asked a question, what is her response to reports that she is getting close to an indian cricketer? sara ali khan replied she have never even seen him.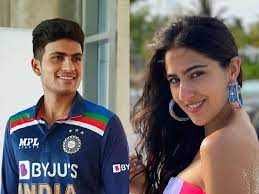 Truthfully and honestly, she never met the person she was meant to be. Rumors like this are normal for people in the cinema, she said. During another interview, sara was asked what kind of partner she was looking for - Zara Hutke or Zara Bachke. She has said that she wants both Zara Hatke and Zara Bachke. But it is noteworthy that Shubman Gill and sara ali khan have appeared together in many shows.
మరింత సమాచారం తెలుసుకోండి: