Siddharth fell on her feet and cried..!?

Hero siddharth needs no introduction. siddharth, who entered the telugu industry as a tamil boy, received super hits with many films such as lover Boy. siddharth has changed so much that fans think he is our Telugu. siddharth made a comeback when he acted in Boys directed by shankar in his first film. After that, Siddharth's first straight film in telugu, Nuvuvostante Nenotdantana, became a blockbuster hit and siddharth became a star hero.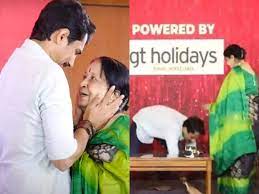 In siddharth Bommarillu's film, actor Vishwaroop performed. He looked like a mirror of the youth of that time and got a good craze. But siddharth has not had a proper hit in the last few years. This left him well behind in the race. siddharth starrer Takker is releasing today. With this, siddharth is participating in successive campaigns. siddharth got a surprise while participating in an interview recently. There the anchors brought a woman named sujatha Rangarajan to the stage without Siddharth's knowledge.
When siddharth saw her, he couldn't believe it. Soon siddharth was reduced to tears. He fell on her feet and sobbed. He hugged and cried. Who is she? The reason why siddharth got so much stardom is because of sujatha Rangarajan. She is in the tamil film industry. shankar Boys is looking for the right guy for the movie. At that time, Sujata convinced shankar about Siddharth. shankar took siddharth as the hero only on Sujatha's recommendation. siddharth himself said this. He remembered that without her, his 20-year career would not have existed.
మరింత సమాచారం తెలుసుకోండి: