When aishwarya Rai applied vermilion before marriage to Abhishek, the reason was revealed in the photo
Recently, a 21-year-old picture of actress aishwarya rai bachchan has surfaced, in which she is seen wearing sindoor in her maang. However, he was not even married at that time. Bollywood actress aishwarya rai bachchan is liked for her unmatched beauty and strong acting. Any picture of him immediately goes viral after appearing on the internet and fans showed a lot of love for him. Recently, one such unseen throwback photo has surfaced. However, Sindoor, who is in demand of the actress, has caught everyone's attention, because aishwarya Rai was not married at the time of this picture.
Actually, in the picture shared by the instagram account 'Retrobollywood', actresses aishwarya Rai and rani mukherjee are seen along with filmmakers karan johar and Sajid Khan, and Farhan Akhtar. aishwarya can be seen wearing an all-black outfit. He had left his hair open. However, Sindoor engaged in his demand caught everyone's attention. Before speculating, the page clarified that the photo was taken after aishwarya returned from the shooting schedule of Sanjay Leela Bhansali's Devdas. This picture is from the year 2002. The caption of the post read, "This picture is from around 2002 and aishwarya is from the sets of 'Devdas', hence the sindoor laga hai."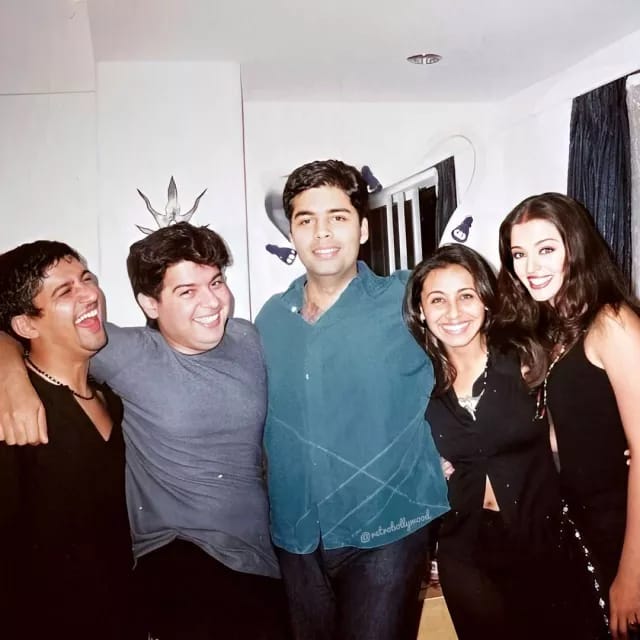 The instagram account clarified that aishwarya is seen playing the role of a married woman in the second half of the film. Most of her looks consisted of gorgeous sarees and sindoor in demand. After this clarification, the fans did not speculate on it. 
Aishwarya Rai and abhishek Bachchan's first meeting
Abhishek Bachchan and aishwarya Rai first met in the year 1997. abhishek went to meet his special friend and actor bobby deol on the sets of a film. aishwarya was also there at that time. After their first meeting, aishwarya and abhishek worked together in the film 'Dhai Akshar prem Ke' in the year 2000.
The pairing of both was seen for the second time in the year 2003 in 'Kuch Na Kaho'. After this, the bonding of both of them continued and then they became love birds from friends. After dating for a few years, abhishek proposed to aishwarya for marriage during the premiere show of his film 'Guru' in New York. A few days later both of them got married.
Aishwarya Rai and abhishek Bachchan's wedding
Abhishek and aishwarya Rai married on 20 april 2007 at their home 'Prateeksha'. The couple was married in a grand manner, which was talked about for months. aishwarya Rai wore a golden Kanjeevaram saree for her wedding and traditional jewelery complemented her bridal look.
Whereas, abhishek bachchan looked no less than a prince in a white sherwani. After 4 years of marriage, aishwarya and abhishek welcomed their daughter Aaradhya on 16 november 2011, who is now 11 years old.
మరింత సమాచారం తెలుసుకోండి: