Vijay's political base starts with students..!?

According to close sources, actor Vijay is accelerating his entry into politics by meeting students who have passed 10th and 12th.

Vijay's statement:

In the statement issued by the Vijay People's Movement, On saturday (17-06-2023) on behalf of the "All india Thalapathy-in-Chief Vijay People's Movement", Vijay is going to honor the students who secured the top three positions in the public examination of the second class in tamil Nadu by giving certificates and incentives in the presence of the parents of the students.

Vijay treated to biryani:


Meanwhile, after a long gap, Vijay met his fans at the end of last year ahead of the release of Varisu. Vijay fans from various districts participated in the meeting held at his house in Panaiyur next to Chennai. At that time, fans were advised about the next work to be done on behalf of the people's movement, and the fans who participated in the meeting were treated to biryani on behalf of Vijay.

Food Distribution on Hunger Day:

Following that, last april too, Vijay met his fans and took pictures. Later in the report, on the occasion of World Hunger Day observed on 28th May, at 11 o'clock on that day, food will be distributed on behalf of the Vijay People's Movement to benefit the poor people in all 234 constituencies in the city, union and regions of tamil Nadu. Following that, he said that he is going to meet the top 3 students who got the highest marks in classes 10 and 12 on behalf of the Vijay People's Movement. Before this, in the report published by the Vijay People's Movement, only the district tax was mentioned as a welfare scheme. But in the last 2 reports, it has been mentioned block-wise. In addition, it has been urged to carry out welfare work at the city, union, and regional levels. Through this, it is clear that the work of bringing the Vijay People's Movement among the people has been intensified. Also, Vijay would start work on the next film only after completing a film in the past. But now, before the shooting of Leo is complete, he has started work on his 68th film. It is also said that he was paid Rs 200 crore for this film. It is said that the Vijay People's Movement is going to contest in the 2024 general elections and Vijay is signing a series of film contracts to arrange the necessary funds for it.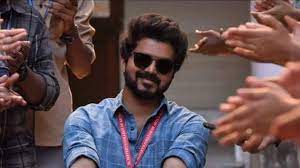 Foundation to students:

It is in this context that Vijay has announced the meeting with the students. Presently 10th and 12th passers will be eligible to vote during the 2026 assembly elections, though not in the 2024 elections. According to his close sources, Vijay has arranged this meeting to attract the future generation and harvest their votes by meeting them.

మరింత సమాచారం తెలుసుకోండి: