surya to team up with Sivakarthikeyan director to release Rs 300 crore new project.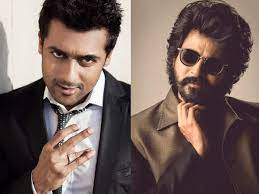 The biggest opportunities keep coming for Surya. His Rolex character in the recently released vikram film was praised by many. jai Beam was nominated for an oscar in praise of Surya's Surya.

Surya is currently a member of the oscar committee. surya is currently starring in her 41st film directed by Bala. surya is expected to star in Vetrimaran's Vadivasal following the film.
Now the update for Suriya's next film is out. Suriya has teamed up with ravikumar, who directed the film Today Yesterday Tomorrow. He has currently directed Sivakarthikeyan's Ayalan. ravikumar got an opportunity to direct Suriya after this film.
Ravikumar has already assembled the team for the film. And a major part of the film is going to be shot in Chennai. As a result, a huge set has been set up in Chennai. And the shooting for the film has started in january next year 2023.
The film is said to set the stage for a story that foretells the future. surya is going to play a scientist in this film. surya has never played the role of a scientist before. Acting in this role for the first time is likely to be more popular among the people.

Work on the screenplay for the film is nearing completion. Credible sources said that the selection of the heroine and other actors in the film will start soon. And the official information for the film is yet to be released in a few days.
మరింత సమాచారం తెలుసుకోండి: