Janhvi Kapoor to debut in tamil with top director..!?

Janhvi Kapoor to debut in tamil with Lingusamy's 'Paiyaa 2'...? But the hero is not karthi who acted in Paiyaa part 1. The movie Paiyaa was released in the year 2010 and became a blockbuster hit directed by Lingusamy. karthi played the lead role in the film and tamannaah acted opposite him. Lingusamy has beautifully and realistically portrayed love during the car journey from Bangalore to Mumbai. The chemistry between karthi and tamannaah was also super worked out.

Another important reason for the film's success was Yuvan shankar Raja. All the songs featured in the film in his music are celebrated by fans even today. Especially the song Adada Mazhada which is featured in it became a song that was very popular in the hearts of the fans. The film was produced by Lingusamy's tirupati Brothers company.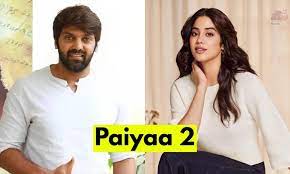 In this situation, it is reported that Lingusamy is preparing to direct the second part of Paiyaa after a gap of 13 years. As the first part was a huge success, the leading production house is said to be gearing up to make the second part of the film with a big budget. But the twist is that Karthi-Tamannah, who played the hero and heroine in the first part, is not acting in the film. According to reports, arya is going to play the lead role in the second part, and Janhvi Kapoor, the daughter of the late actress Sridevi, is going to play the lead role. And Lingusamy is planning to shoot the film entirely in Dubai. Rumor has it that it is also likely to be released as a pan-India film due to Janhvi Kapoor's acting.
మరింత సమాచారం తెలుసుకోండి: