Famous director is very angry with Keerthy Suresh..!?
.
After Keerthy suresh acted as a sister to Rajinikanth in Annatthhe, none of the films turned out well, and she finally acted in Sani Kapargam. But the film was not released in theaters but was released on amazon Prime Video. The film received positive reviews. At one time, she was a busy actress who paired up with leading heroes and now she was struggling to get the right opportunities. In this case, she is committed to the film raghu Datta. With this film, she was acting with more involvement with the aim of getting back the lost opportunity in tamil cinema. The film is directed by Sunil. sudha Kongara is the executive producer.

Also, this film is produced by Kombalaya Films, the company that gave hits like KGF, and Kantara. That's why the expectations for this film are high. In this case, the director of this film and Keerthy suresh had some problems at the shooting spot when the shooting took place. Due to this, resentment has arisen between them. Next, Keerthy suresh, who completed the first set, does not give a ticket for the second set and is having fun wandering around the crew. Beyond this, when they asked Keerthi, she refused to give the call sheet giving some reason.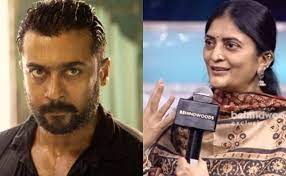 Due to this, sudha Kongara is very angry with Keerthy Suresh. In general, whenever Suriya talks about sudha Kongara on the stage, he says that she is very proud and a good director. In that case, how can it be fair for Keerthy suresh to make a fool of her like this? The producer of this film, Kombalaya Films, is suffering more than all of them. Keerthy Suresh's action is spoiling it when the company wanted to see success in this film after giving successive hits.
మరింత సమాచారం తెలుసుకోండి: