Dhanush fighting with his ex-wife..!?

After back-to-back hits like Thiruchirthambalam and Vaathi, actor dhanush is acting in Arulmadeswaran's Captain Miller. The film is being shot around tenkasi and madurai regions. In this case, dhanush has suddenly gone to mumbai after the shooting. A few days ago, photos of dhanush at the mumbai airport with a beard and mustache went viral on social media. netizens are commenting that this villain could be the villain of Captain Miller. In this case, why did dhanush go to mumbai was the biggest question.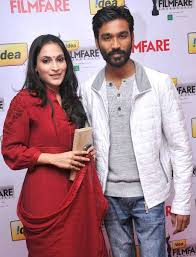 Currently, there are reports about actor Dhanush's visit to Mumbai. dhanush is already committed to films like Airathil Oruvan 2 and D 50. In this case, he is going to make a film in bollywood again. The reason for this visit is that he is teaming up with famous director anand L Roy for the third time.
It was director anand L Roy who took dhanush, who flew the flag in tamil cinema, to bollywood with the film Ranjana. The film was also released in tamil as Ambikapathi. After that, anand L Roy re-directed Atrangi Re in the alliance of dhanush, sara Ali Khan, and Akshay Kumar. dhanush, who has given a romantic film with director anand L Roy, is currently acting in an action film. This movie is going to be made as a pan-India movie. dhanush is currently in mumbai for the promo shoot of the film. So an update about this film is expected to be released soon. After many years, Aishwarya, the elder daughter of Superstar Rajinikanth and the ex-wife of actor dhanush has set foot in bollywood with the film Lal Salaam directed by Rajinikanth. dhanush is now preparing to act in a bollywood film. It seems that he is competing with Aishwarya.

మరింత సమాచారం తెలుసుకోండి: