Shankar to Team up with tollywood Power Star!!!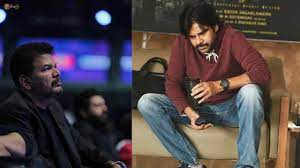 Kollywood The legendary director Shankar, who is known for his conventionally oriented work, will probably collaborate with tollywood superstar Pawan Kalyan. Yes, what you heard is entirely accurate. shankar authored the writing for our Ustaad Pawan Kalyan, but he is currently working on the political drama movie Game Changer with ram Charan. producer of Game Changer dil raju advised casting ram Charan as the lead, therefore shankar followed his hint. This movie is currently finishing up production and is scheduled for release early the following year. Contrasting ram Charan in the lead part is kiara Advani.
In the meantime, shankar wrote another script in order to helm Pawan. The "Bro" star had shankar wait until the conclusion of the 2024 andhra pradesh State assembly elections since he was too busy with other ventures and political obligations. shankar is also working on indian 2, a remake of Kamal Haasan's indian movie, in addition to Game Changer. Kamal returned to the lead position for the sequel. After these high-profile projects with large budgets, shankar will start the movie starring Pawan Kalyan. Very soon, the official announcement will be made public.
Before the start of the general elections in ap, the actor who plays hari Hara Veeramallu intends to release all of his upcoming films. However, it appears to be quite challenging given how soon elections will be held. The films pawan kalyan is currently working on include OG, BRO the Avatar, hari Hara Veeramallu, and Ustaad Bhagat Singh. Fans of power star will be in for a real treat with Shankar's skilled direction and the addition of a political setting.
మరింత సమాచారం తెలుసుకోండి: