Samantha's chance came into Rashmika's hands..?

However, it seems that rashmika has now got her hands on a film that she had left. It is known that actor rahul ravindran turned director for the first time with the movie Chila, Sou. tollywood star heroine samantha recently came to the audience with the movie Khushi. This movie, which had a lot of hope, failed at the box office. If it was supposed to be a blockbuster, it got mixed talk. During the release of this movie, she went to America for her treatment. samantha turned down many offers in the wake of this treatment. The director told the producers that she would not do any of the films, even though she agreed to do them earlier.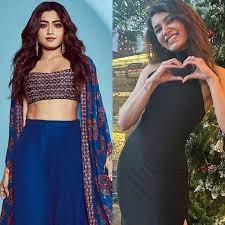 It is said that the advance taken has also been returned. However, it seems that rashmika has now got her hands on a film that she had left. The movie got good talk, and in this sequence, he immediately made his second movie Manmathudu 2 with Nagarjuna. However, it flopped. There was also a lot of criticism of the movie-making. So he never made another film. However, now he wants to show his ability as a director once again. rashmika is being taken as the heroine in that movie. rashmika liked the story after hearing it. Agree immediately. However, rahul first told this story to Samantha. She agreed to do it too. Since samantha had a good friendship with rahul and his wife Chinmayi from the beginning, she decided to do the film herself. But, considering her illness, she withdrew from this project. With this, rashmika has now entered Samantha's place. rashmika will soon start shooting for this project. Meanwhile, rashmika already has two pan-India films in her hands. The animal will hit the screens soon and another movie Pushpa2 will release in august next year. Remarkably, rashmika has high hopes for these two films.
మరింత సమాచారం తెలుసుకోండి: