The situation between india & china is fragile & dangerous...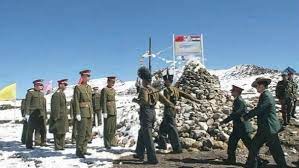 External Affairs minister S jaishankar claimed on saturday that the situation along the Line of Actual Control (LAC) in eastern Ladakh remains very delicate and in some areas, india and china are facing difficulties due to the close deployment of troops of both countries. According to the ongoing military assessment, the situation is quite dangerous.
External Affairs minister S jaishankar also said that substantial progress has been made in the process of disengagement in many areas. S jaishankar also said that he and the then Chinese Foreign minister Wang Yi had reached an in-principle agreement in september 2020 on how to resolve the issue, which was agreed upon and now china has to fulfil it.
When will the country's relations with china be normal?
Foreign minister jaishankar has said in a program of 'India Today' that in a dialogue session it was made clear that until these problems are resolved, relations between the two neighbouring countries cannot be normal.
The soldiers of india and china have been facing to face for almost three years at some places in eastern Ladakh. Although both countries have completed the process of withdrawal of troops from many other areas after extensive diplomatic and military talks.
The situation on LAC is still critical
Jaishankar said that china violated agreements in 2020, the results of which were seen in Galvan Valley and other areas. The situation is still critical, in my opinion, despite the fact that we have deployed our troops and maintained our position in some areas where they are very near to the front lines of conflict, the general said. 
మరింత సమాచారం తెలుసుకోండి: