The long arm of the law will undoubtedly eventually catch up with crooks! The telangana Crime Investigation Department (CID) detectives are searching for criminals who are calmly living their lives under the assumption that they are safe from the police dragnet as part of a novel initiative to solve cold cases that have been unsolved for at least 20 to 30 years.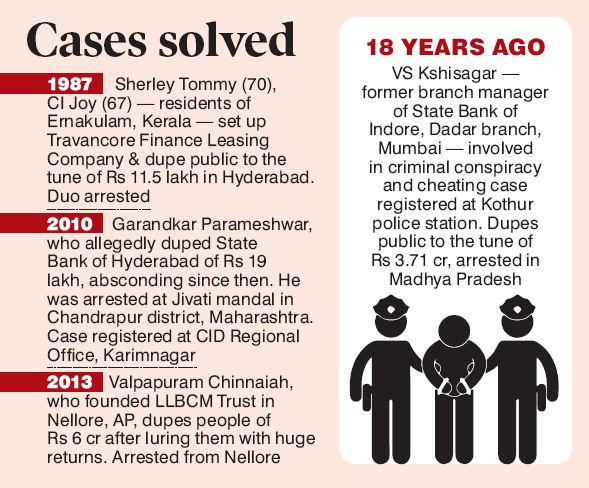 The Special Investigation Teams are scouring the nation under the direction of Mahesh muralidhar Bhagwat, Additional director General of police, Crime Investigation Department telangana, with the goal of apprehending people who have been eluding capture for years. Special investigating teams have so far apprehended 11 people who were evading the law in a variety of situations, including property violations and financial scams, despite the scant information available that extends back decades.
"Our goal is to apprehend people who are connected to the crimes but have fled. Our officials are tracing and apprehending the people on a list of such fugitives using the information at their disposal, according to Mahesh Bhagwat. After a gap of roughly 20 to 30 years, finding the suspects, who are primarily settled in other indian States, is a difficult undertaking. The extraordinary work is being carried out by dedicated teams of hand-picked individuals. "After traveling to other locations, we ask the local police for help in finding the suspects. Because they might have moved, it often takes between 10 and 15 days to find the people, according to the top officer.
For the officers, it is not an easy duty. "In one instance, we searched for the individual in Maharashtra. After asking around, we learned that he doesn't reside there, and using some basic information we learned from them, we were able to find him in Madhya Pradesh, claims Mahesh Bhagwat.


According to B
ram
Reddy, Superintendent of
police
, CID, unlike in recent cases when
mobile
phones or other identity documents are essential to track down suspects, old cases only had residential addresses and landline
phone
numbers as hints. "Again, over time, the communities have changed their names, and landlines are no longer in use. As a result, we pick up both experienced and young, tech-savvy
police
officers. The combination is effective since the elderly use traditional methods to find the person while the young concentrate on technical instruments, according to the official.
మరింత సమాచారం తెలుసుకోండి: