Power usage has increased throughout the State, particularly in the Greater hyderabad boundaries, as temperatures have above 40 degrees Celsius in the majority of the State during the past few weeks. On Friday, there was a 200.492 million unit demand for electricity, compared to a 177.756 million unit demand on the same day last year.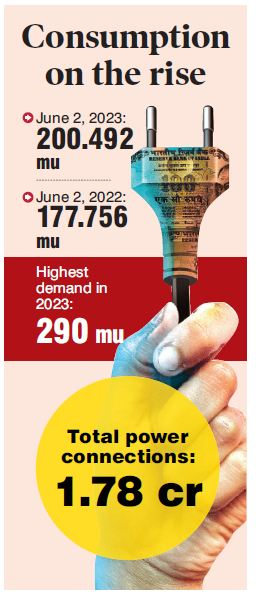 Due to the rise in daytime temperatures in May, home electrical energy consumption in the State, particularly in hyderabad city, has increased significantly. The State's energy consumption increased once again in the previous ten days, rising from 176.754 mu to 200.492 mu. In fact, the electricity demand was just 136. 894 mu at the beginning of May, but it has been steadily rising every week since then.

The increase in power consumption in the State, according to officials, is the result of rising daytime temperatures and increased demand from the household and industrial sectors. The power companies anticipate a further, substantial rise in electricity consumption as the Vanakalam (kharif) season is set to start this month.

Power demand in the State reached 290 mu during the Yasangi season in march, and authorities anticipate it to surpass 300 mu during the forthcoming Vanakalam season. The lack of agricultural activity in the State, according to electricity authorities, has resulted in a minor decrease in power consumption at the moment, but once sowing begins, the need will progressively rise. Since most farmers use bore wells to cultivate their crops, the agriculture sector uses 37% of all the electricity used in the State, which would result in an increase in power usage.
Early this year, on march 30, the State had already noted a high demand of 15,497 MW. The power utility agency had planned for the supply of electricity after estimating that the peak demand would reach 16,000 MW in May. When it comes to the South indian States with high electricity use, telangana is just behind tamil Nadu.





మరింత సమాచారం తెలుసుకోండి: