It is the opinion of many that indian roads are generally bumpy. But a main road is nowhere to be seen being bombed. prasanth Kishore, a project expert on popular political parties, said on twitter that such a road exists in Bihar.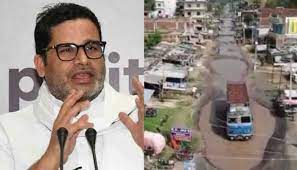 The NH 227 main road in bihar, which is located at Madhubani, seems to be in a very bad condition. This road is one of the worst roads in the world. But this road is like a small swimming pool without being like a road. The road in this place looks like a small puddle. This road is a concrete road. It is painful to be on a concrete road in this condition. Many mock the bihar government for making this road an example of the moon. This is to illustrate the situation in the state of Bihar.
Prashant Kishore, a well-known election planner in india, who is currently in charge of the project, took a picture of the road with a drone and posted it on his twitter page. He is from bihar state. He seems to be armed to contest the bihar state assembly elections. Taking this opportunity, he took to his twitter account to criticize the bihar state government. He slammed bihar Chief minister nitish kumar for posting this. The road has been like this since 2015. Its pit has now risen to 100 feet.
This road is dangerous for many vehicles. Mainly two wheelers make a lot of people fall into this pit. So far three hidden tenders have been issued to renovate this road. Yet the road remains intact without any work being done. Commenting on this, the bihar state government said that NHAI would carry out the work on the road and work on the road would begin in two weeks. prasanth Kishore said that not only this road but many other roads in bihar are like this. "Roads are mostly paved all over Bihar. Recently, nitish kumar asked road workers across india to speak proudly about roads in bihar, but he said look at the actual condition of bihar state roads.
మరింత సమాచారం తెలుసుకోండి: