Shikhar dhawan will meet son Zorawar after 3 years, court summons ex-wife Aesha Mukerji
Indian cricketer shikhar dhawan is in a happy mood at the moment as he is all set to meet his 9-year-old son Zoravar after almost three years. His ex-wife Ayesha Mukherjee has been summoned to india by the court.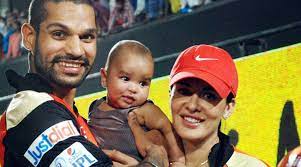 Veteran cricketer shikhar dhawan is the opening batsman of Team india, who is riding high on the professional front. However, his personal life has not been great and currently he is in limelight for his failed marriage with his ex-wife Ayesha Mukherjee. Let us inform that dhawan and Ayesha tied the knot in the year 2012 and they welcomed a child Zoravar in the year 2014. However, in 2020, there were reports of rift in their marriage and both filed for divorce in september 2021.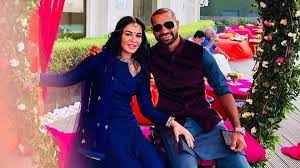 Shikhar dhawan to meet his son Zoravar after three yearsAyesha and Shikhar had initiated legal proceedings for divorce and child custody in both india and Australia. After her divorce, Ayesha Mukherjee moved to australia and took son Zorawar with her. Sadly, shikhar dhawan hasn't met his kid since 33 months and is yearning to see him once. Well, shikhar dhawan is all set to be reunited with his nine-year-old son as Delhi's Family court has ordered his ex-wife Ayesha to bring their son to india to reunite with the family.


On 8 june 2023, the delhi Family court ordered Ayesha Mukherjee to bring son Zoravar to india for a family meet, stating that a mother alone does not have all rights over a child. Judge Harish Kumar also said that a father also has the right to meet his son.

Questioning Ayesha's reasons for not allowing Zoravar to meet Dhavan's family in india, the judge said, "A single mother has no right over the child, then why is she opposing the petitioner to meet her own child, when He is not a bad father. The blame for polluting the atmosphere within the family has to be shared by both. Disputes arise when one raises issues and the other ignores it."

Shikhar Dhawan's family has not met his son Zoravar since august 2020 and is now hosting a family function. Earlier, when dhawan had requested that he wanted his son to attend the family meet on june 17, 2023, the court had rejected his request due to his son having important classes in school.

Apart from this, Ayesha had also claimed that not many people would attend the event, so she too need not come. dhawan fixed the schedule for 1 July 2023 to manage the child's school vacation, but Ayesha protested again, claiming that family members were not consulted about the new date.


The delhi court highlighted how Dhawan's wife Ayesha urged the Australian court to put the cricketer on the watch list. Not only this, Ayesha was also reprimanded last month for questioning the jurisdiction of the indian court in her child custody case.

Reprimanding Ayesha for her actions, the judge had said, "Her objection to the cost may be justified, but her reluctance cannot be justified. She has not been able to explain what she has to say about the petitioner's child". There is fear and why did they approach the court in australia to put him on the watch list." Had the petitioner intended to take law into his own hands to obtain custody of the child, he would not have approached the court in India."

మరింత సమాచారం తెలుసుకోండి: