Bride-to-be parineeti chopra leaves for mumbai for her wedding! The 'R' written on the cap attracted attention
Recently, actress parineeti chopra was seen at mumbai airport, after which it is said that she has left for her wedding.


Bollywood actress parineeti chopra is currently in the headlines for her marriage. There are reports that the actress is going to marry her fiance and politician Raghav Chadha on september 24, 2023 . The couple will have a royal wedding, for which 'The Leela Palace' and 'Udaipur Palace' of udaipur have been selected as wedding venues.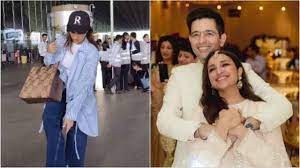 a video of Parineeti was shared from a paparazzi instagram account, in which the bride-to-be was seen at the mumbai airport. After this video of Pari surfaced, speculations are being made that perhaps the actress has left for her marriage. During this time, parineeti chopra was looking very happy. The bridal glow was also clearly visible on her face. Parineeti looked quite cool in denim jeans, white tank top with blue shirt and white sneakers.
The cap written 'R' attracted attention
Parineeti's simple-casual look at the airport was worth seeing, in which she was seen flaunting her natural glow in a no-makeup look. However, it was his cap that caught our attention. Actually, 'R' was written on her cap, which is being linked to her fiance Raghav Chadha.

Parineeti and Raghav's wedding detailsLet us tell you that actress Parineeti and politician Raghav got engaged in May 2023. Now after about 4 months of engagement, the couple is going to get married on 24 september 2023, which will be a punjabi wedding. Their marriage is going to happen in royal style. The wedding rituals will begin from september 23, which include rituals like Haldi, Mehendi and Sangeet.

It is being said that Parineeti and Raghav's sangeet ceremony will be on the theme of 90s. His music will include songs from the 90s. After this, there will be 'Chuda Ceremony' the next day and then the wedding. The wedding will take place during the day and then a reception will be held on the same night, which will be attended by family and close people.

Raghav will bring the wedding procession on the boat 'Gangaur'
Earlier, Patrika's report had claimed that Parineeti Chopra's groom-to-be Raghav Chadha will enter in a lavishly decorated boat for his wedding procession. Raghav's wedding procession will start from Hotel 'Lake Palace' and move towards Hotel 'Leela Palace' overlooking the majestic Lake Pichola, where Raghav and Pari will marry. Royal 'Gangaur' boat has been chosen for this important occasion.

మరింత సమాచారం తెలుసుకోండి: